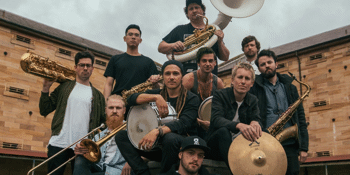 HOT POTATO BAND - STITCH UP TOUR
Workers Club, Geelong (Geelong, VIC)
Saturday, 13 April 2019 8:00 pm
HOT POTATO BAND - Bio 2018
Over the past 4 years, Hot Potato Band has seen an unprecedented evolution. Beginning their
journey as roving street performers, the 10 piece band from Sydney, Australia have been twice
around the the literal and figurative block. Like a muscle they have exercised their musicianship
and showmanship which is the likely reason they leave lasting impressions on festivals and
audiences. Many Australian and New Zealand festivals including Woodford Folk Festival (QLD),
Queenscli
ff
Music Festival (VIC), Caloundra Music Festival (QLD) and Coastella Festival (NZ)
athemed the bands first release 'This Is How It Should Be', as well as many festival reviewers
highlighting the their show above larger Australian and International names.
"Hot Potato Band were undoubtedly one of the most entertaining acts of the day" -
Madeline Tait, THE MUSIC (Lost
Picnic Festival, Sydney)
"Simply amazing in every single way, from their timing, their show performance, to their impressive crowd
involvement. They gave the Lost Picnic audience a performance so unique and entertaining, personally their set was
definitely one of the highlights from the entire event" -
Laura Tedder, AMNPLIFY (Lost Picnic, Sydney)
"Of course there are always some gems of acts that you see that make the entry price totally worth it. My picks for
this year were Sydney boys Hot Potato Band who i saw twice." -
Kristen Austin-Zande, SCENSTR (Queenscli
ff
Music Festival)
"This band simply is a barrel of fun and a perfect fit for a summer's night of revelry."
-
Philippe Perez, The AU Review
Hot Potato Band is proud of their all acoustic line up. The absence of electronic
instrumentation has set them apart from many other acts and continues to tie them to their
roving roots, but not to the stage. The bands energy is released through an amalgamation of
catchy music and lyrics, infectious dance moves, and audience interaction, attributed to their
mobility as a band and the breaking down of barriers between stage and audience. Although
di
ffi
cult to describe their genre, HPB continues to compile their arsenal of songs inspired by
Pop, Funk, Ska, Reggae and bound by the classic sounds of New Orleans brass bands.
The bands unique sound is built on the backs of three drummers and a sousaphone, along with
an array of horns covering catchy chorus lines and providing a beautiful harmonic cloud for
Ben (vocalist) to float above. They are a band never to shy from a good time.
Listen
to Hot Potato Band's latest releases on your preferred music service:
SPOTIFY:
https://open.spotify.com/artist/4sxm5KWkWvxF6kMrqvpWJN
APPLE MUSIC:
https://itunes.apple.com/au/artist/hot-potato-band/924807584
DEEZER:
https://www.deezer.com/us/artist/6867427?app_id=100023
YOUTUBE MUSIC:
https://music.youtube.com/channel/UCU1kQuPkGF6RaoMUM7gXO3Q
GOOGLE PLAY:
https://play.google.com/store/music/artist/Hot_Potato_Band?
id=Akrmjtlvfqkgo6i7mrz6m2xantm
BANDCAMP:
https://hotpotatoband.bandcamp.com/releases
Follow
Hot Potato Band on your preferred social media platform:
FACEBOOK:
http://www.facebook.com/hotpotatoband
INSTAGRAM:
http://www.instagram.com/hotpotatoband
TWITTER:
http://www.twitter.com/hotpotatoband
YOUTUBE: http://www.youtube.com/hotpotatoband1
MAILING LIST: http://www.hotpotatoband.com