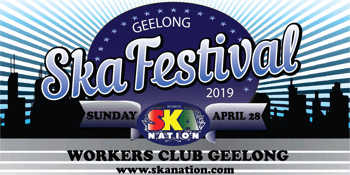 Focus Group Music & The Ska Show on 88.3 Southern FM, Spinning Half & Workers Geelong present
Ska Fest Geelong
Workers Club, Geelong (Geelong, VIC)
Sunday, 28 April 2019 2:00 pm
Strange Tenants, Melbourne Ska Orchestra, Area 7, Los Kung Fu Monkeys (MEX), The Resignators, The Beatdown, Anty (from the Bennies), Kujo Kings, Boss Melody + more to be announced!
Focus Group Music & The Ska Show on 88.3 Southern FM presents
The first Ska Nation event was held at Melbourne's CBD night club in 2008 and after 5 events, featuring some of the world's finest Ska, reggae and punk bands including Streetlight Manifesto, The Toasters, Area 7, Melbourne Ska Orchestra, Planet Smashers, The Resignators and many more, Ska Nation was put on ice but returns in 2019 bigger and better than ever!
Melbourne has always enjoyed a thriving ska scene and now Geelong has it's chance to experience the joys of Jamaican inspired music as the festival is added to the return to Ska Nation festival in 2019.
Friday April 19th, Good Friday, the Ska Festival begins at Melbourne's iconic Corner Hotel in Richmond and features a line up oozing with the promise of good times and non stop dancing from 7pm you'll be able to catch Area 7, Melbourne Ska Orchestra, Los Kung Fu Monkeys from Mexico, The Resignators, The Beatdown from Canada and the reformation of Mister Coffee.
The Ska Festival then heads down the highway to Workers Geelong in the heart of Geelong's CBD on Sunday April 28 for a party not seen in Geelong for many years.