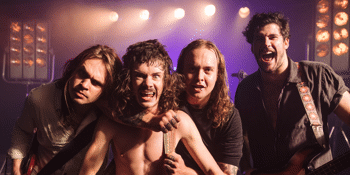 The Southern River Band
Workers Club, Geelong (Geelong, VIC)
Thursday, 14 February 2019 8:00 PM
"In a world where starting off a biography with "In a world where" is the norm, The Southern River Band are apparently no different. In the very same world, where labeling oneself is encouraged, where being able to describe one's style is expected, The Southern River Band neither know, nor care how to fit themselves into these pigeonholes. Head south on Perth's so-called "Freeway", jump on Roe Highway, hang a right on Nicholson Road, go through the busiest roundabout in Australia, and you'll find yourself in Thornlie, the home of The Southern River Band. A country town in the heart of the suburbs, where the jukeboxes stock very little other than the very same songs you would've heard reverberating out of them in 1970's. They say you're a product of your surroundings, who are "they"? Nobody knows. But, they're not far wrong. You're bound to find one of the boys recycling their spare change, putting on 'Come Back Again' for the 3rd time in the space of 4 hours on any given Friday arvo."
Within the first year of formation, The Southern River Band has literally gone from playing to a handful of people and the bar staff at The Thornlie Tavern in Perth's south east corner to becoming one of Australia's most popular and exciting new acts. Rock and roll with a dash of Boogie Woogie and a sprinkle of Country, or as one guy at the bar once told us, "Just sounds like a goddamn Saturday night".
The band's musicianship, stage presence and exceptional live performance quickly earned them the title 'The band I told you about...' and were nominated for WAM's "Most Popular Live Act" award of 2016 & 2017.
Influenced by the purest rock and roll bands of the 70's and 80's, from timeless melodies written by Bob Seger and Glenn Frey to heavier riffs in Van Halen and Lynyrd Skynyrd. The band's plethora of songs covers various genres, all delivered in the explosive SRB style.
SRB has received a firm nod from members of Status Quo, The Angels, Pond, You Am I, The Stems, Cosmic Psychos, Karnivool and Ian Moss.